Is Online Poker Legal In The US?
Americans have enjoyed playing poker as a pastime for centuries, increasingly so over the past few decades thanks to television, streaming and online play. During the early 2000s "Poker Boom," online poker had its initial surge in popularity, propelling it to the forefront of popular culture.
Unfortunately, as the game's popularity grew, there was much debate about its legality. Today, state and federal regulations both have an impact on the legality of online poker in the US, often making the situation difficult to decipher. As a result, the response to the question of whether poker is legal in the US is more complex and complicated than one might initially imagine.
Online Poker History
The Federal Wire Act of 1961 was the first legislation to regulate interstate betting and sports betting. However, in 2011, the US Department of Justice changed the law's scope such that it only applied to athletic events, giving states the power to regulate and legalize online gambling. After this decision, states could decide how to license and regulate online poker and casino games for themselves. However, after the Unlawful Internet Gaming Enforcement Act (UIGEA) was established in 2006, gambling establishments were no longer permitted to accept or initiate transactions for online gambling. As a result, in 2011, on a day known as "Black Friday," the domains and funds of numerous online poker sites were seized.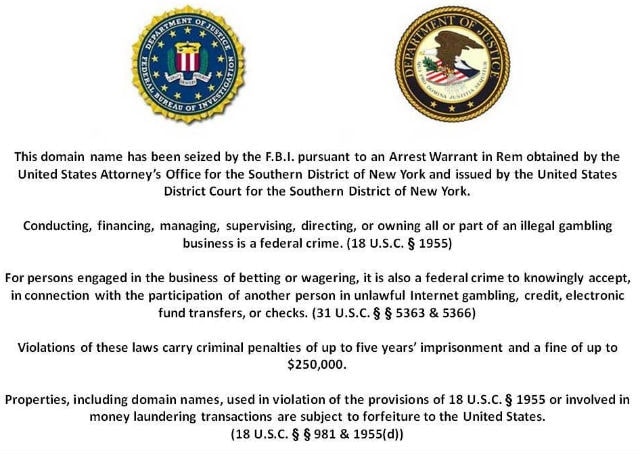 Online Poker Present Day
As of early 2023, six states have legalized online poker. These states include Nevada, Delaware, New Jersey, Pennsylvania, West Virginia, and Michigan. However, for players and operators of online poker in other states, the inconsistencies between federal and state legislation are often confusing. That's why, even though playing online poker games is technically legal, it can still be somewhat challenging for players to find reputable and licensed sites to do so. As many states continue to debate bills to legalize online poker in 2023, it's critical for players throughout the country to stay as informed about their state laws as possible before hopping on a poker platform.
Some of the most popular legal US poker sites include:
PokerStars
Party Poker
WSOP.com
Online Poker Future
Although nobody has a crystal ball that can predict the future of online poker in the US, it is likely that the industry will continue to expand and evolve as additional states consider its legalization. The good news is that as more states pass pro online poker legislation, player pools will continue to grow, resulting in larger tournaments, more payouts, and more opportunities for poker fans throughout the country. Additionally, as the industry continues to become increasingly regulated, it will simultaneously become safer for players.
As such, if you are a US-based poker player in the year 2023 and beyond, it is increasingly critical that you do your homework in making sure that you are staying up to date with the most current laws and regulations of your specific state. With that said, worry not. Although the history of online poker has undoubtedly had its ups and downs over the past decade or so, with more and more states debating the legalization of online poker each and every day, the future of the highly beloved poker industry looks as promising as it's been since the dark days of Black Friday.
FAQs: Is Online Poker Legal In The US?
Can you play poker online for money?
Whether you live in the US or elsewhere, there are several highly-rated online poker sites that offer a wide range of cash games and tournaments.
Is online poker legal in the US?
While gambling laws vary from state to state, it's not hard to play poker legally in the US. If you live in Nevada, Delaware, or New Jersey, you can find several legal homegrown options. Yet there are reputable international sites that cater to players in most regions.
Is it legal to play Texas Holdem online for real money?
Whether you live in the US or elsewhere, there are lots of great online poker rooms that let you enjoy Texas Hold'em and other poker variants legally. All the top sites let you play for fun or real money.
Do online poker sites accept US dollars?
All the leading poker rooms on the internet welcome US currencies. Since the US dollar is the most popular currency in the world, games are almost always denominated in USD.
What should I look for when choosing an online poker site?
We recommend choosing a poker room with a long track record. You'll also want to consider the selection of games, quality of the poker client, promotions, customer service, and the welcome bonus. Always make sure the site and its software are certified by an accredited agency.
Which laws apply to online poker in the US?
The main piece of legislation that pertains to online poker in the US is the UIGEA. The UIGEA doesn't speak to the legality of playing online poker, but it does cause headaches for financial institutions since it prevents them from processing certain types of payments.
You don't really need to be concerned with this legislation unless you are planning on opening a casino or poker room that serves US players. You can learn more about the UIGEA above.
What's the legal age to play online poker?
The gambling age in most US states is 21. While the age of majority at many global poker sites is 18, you'll need to check the user agreement to determine if your state's laws override international rules. No matter how old you are, be prepared to provide valid identification when signing up or certifying your account.